David is currently pursuing his International Action Learning Master of Business Administration (IALMBA) at Business School Netherlands (BSN). He found the programme and enrolled via Studyportals. We asked David about his experience of searching and applying to a university abroad.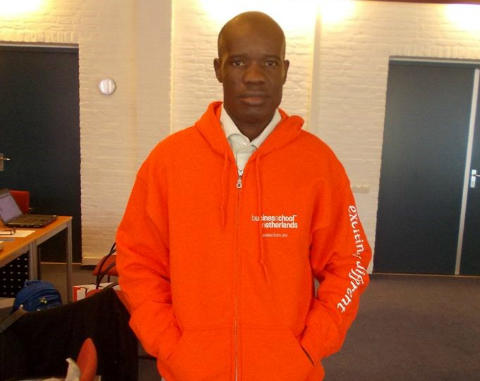 About you
Tell us a bit about yourself. What is your name? How old are you? Where are you from?
My name is David Memezi. I am thirty-nine years old, married with four children. I am a Zimbabwean citizen by birth, currently based and working in Harare, Zimbabwe.
Where are you studying now? What university are you attending and what programme are you enrolled in? What degree and how long is your programme?
I am currently enrolled in the Business School Netherlands (BSN) for an International Action Learning Master of Business Administration (IALMBA). This International MBA is a two-year blended distance-learning programme, combining virtual classes (online) and residential conferences in the Netherlands.
Why did you want to study abroad?
The world has since been transformed into a global village, hence, for one to be marketable and be a good manager, the international exposure becomes a pre-requisite.
Searching for study options
How did you find your study programme? Why did you choose this particular university?
I came across this programme through searching the Mastersportal website. One thing that I like most about this programme is the work-study-travel aspect. As someone who is working and also a family man, I find this programme meets both my professional and social demands very well. The 100% Nuffic Scholarships offered by Business School Netherlands just makes it a fantastic programme for almost every African student, given the financial challenges most African students are always faced with. One more aspect of interest is the "Action Learning Methodology". As a manager/leader, I find this learning methodology quite relevant and effective in finding solutions to pressing organisational problems.
Did you know about the university and/or programme before seeing it on StudyPortals?
I only came to know about it through the website search on StudyPortals.
On what stage of the application were you using Studyportals?
I used Studyportals to search for a suitable MBA programme and then visited the university website for my application. I found the website to be quite useful and informative right through my application process.
Deciding for a university
What were your main priorities when choosing your university and your programme (e.g. academics, accommodation, university services & facilities, personal & professional development, city & culture, cost & funding, practicalities, social life)?
My main priorities were personal & professional development through a distance programme that is internationally recognised and offers Scholarships/Fellowships.
Was it your first study choice? What other universities did you consider? What was the main reason for your final choice?
BSN was my first choice, though I also got a place at the Westminster University. A Fellowship, flexibility plus the practicality of the programme made me settle for Business School Netherlands. I didn't succeed in securing a scholarship with Westminster.
Did you already know from the start that you wanted to study in that particular country and city? Why did you choose for this particular location?
Initially, I was just interested in studying abroad for any internationally recognised programme. It was then through some personal research that I found Netherlands to be a very good place for me, and BSN in particular. I found that universities in the Netherlands are actually cheaper compared to other European universities, hence why I narrowed my search to the Netherlands.
Did you take a language test (e.g. TOEFL, IELTS) when applying for the programme? If yes, which one did you choose, why and how was your experience with it?
No, I didn't. English is my native language.
Book an IELTS test in your country!
Recommendations
What would be your advice for students from your country that consider studying abroad?
It's not that easy. The competition is very stiff and one just needs to put an extra effort in order to make it. Once you have decided on a programme that you want to do, identify and target only the universities that meet your criteria. Above all, it is quite possible and worth the effort.
How did you finance your stay abroad and what financial advice would you give to future students?
My programme is 100% funded by an NFP Fellowship. Students who cannot afford funding their studies on their own, there are quite a number of universities that offer fellowships especially to developing countries. Even self-funded students should know that education is increasingly becoming so expensive abroad. Universities in different countries charge different fees for the same programmes. Identify and target universities in countries that offer best prices both in terms of living expenses and fees.
Why would you (not) recommend this particular city / university? How would you rate your experience on a scale from zero to ten (0 – It was a total disaster, 10 – I had the time of my life)?
For every manager/trainee manager or entrepreneur and any enterprise/organisation that is result oriented, Business School Netherlands' International Action Learning MBA programme is the best ever action oriented program that you can get. You don't wait for a year or two to see the results. The results can be seen right through the journey. Given this background, I would rate BSN at 10 (ten).
Is there anything that you would do differently if you could do it again?
I don't regret having made this decision. Time and effort are what brought me this far.
What was the biggest surprise in your study abroad adventure?
The cycling culture took me by surprise, and the age groups that could be seen riding on bicycles. I tried to recall the last time I was on a bike but I could not. Language, all material in the restaurants that I visited and in the rooms that I stayed while in Tiel were in Dutch, even though all the staff could communicate well in English.
Were you inspired by David's story?